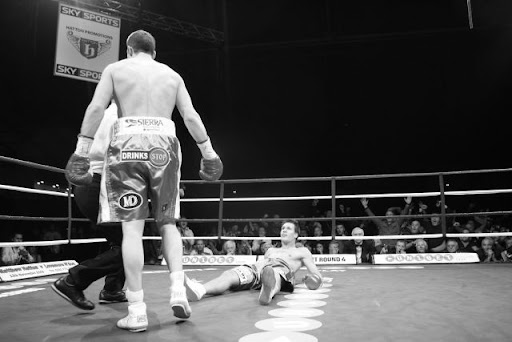 Thanks to a devastating left hook, Birmingham middleweight Matthew Macklin claimed European title honours Saturday night at the Velodrome in Manchester with a first round stoppage of Finland's Amin Asikainen.

Photographer Chris Royle was ringside to capture all the action from the explosive one rounder.

Matthew Macklin vs Amin Asikainen


Matthew Macklin (below left with trainer Joe Gallagher) brought a 24-2 record into the contest. The Birmingham middleweight claimed the British title in his last outing with a 2 round destruction of fellow Birmingham fighter, Wayne Elcock.

Despite sporting a 25-2 record, Finland's Amin Asikainen (below right) entered the bout as a prohibitive underdog. A veteran of 5 European title bouts, the former champ was stopped in his previous attempt to reclaim the crown by Khoren Gevor last November.
The action heated up right away, and while Macklin was the more aggressive of the two fighters, firing power shots with both hands, Asikainen stood his ground and battled it out in the middle of the ring.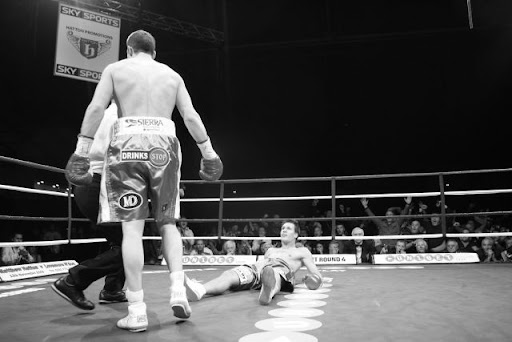 Above - Macklin digs a hard right hand to Asikainen's body.

It was not too long after that a huge left hook to the side of the jaw sent the Fin crashing to the canvas. For a moment it looked like the fight might be over right then and there, but the visiting man gamely made it to his feet on noticeably unsteady legs.

Sensing victory, Macklin wasted no time in going for the finish, backing Asikainen into the ropes before putting him down for a second time with a series of right hands.

Asikainen was up almost immediately, but after finishing the mandatory 8 count, referee Luigi Muratore waved the fight off. The time was 2:34 of the opening round.
A victorious Macklin jumps into trainer Joe Gallagher's arms.

After having worked with several different trainers in the past, it appears that Macklin has found a good match with the Manchester based Gallagher.
Promoter Ricky Hatton (far left) is one of the first in the ring to congratulate the new European champion.

On the right, Joe Gallagher poses with the two fighters.